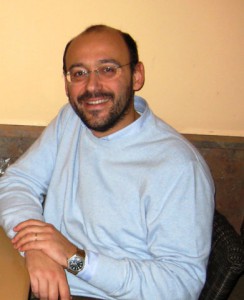 Laureato nel 1996 in Lettere Classiche sotto la guida di Riccardo Di Donato, con la discussione di una tesi dal titolo Diritto e civiltà: un inedito di Louis Gernet, nel 2000 ha ottenuto il diploma di perfezionamento in "Scienze della Cultura – Antropologia" presso la Scuola Internazionale di Alti Studi – Fondazione San Carlo di Modena, e nel 2002 quello di dottorato in "Scienze della Cultura" presso l'Università di Modena e Reggio Emilia con una tesi dal titolo Studi sulle tecniche del diritto ateniese in età classica.
Ha trascorso periodi di studio presso la Université de Lausanne (a.a. 1994/5) e la Faculty of Classics della University of Cambridge (1999 e 2011) e negli anni 2001-2003 ha lavorato come redattore responsabile dell'area antichistica e antropologia per il Consorzio Universitario on-line ICoN (www.italicon.it).
Nel 2004 ha preso servizio come Ricercatore Universitario di Lingua e Letteratura greca all'Università di Pisa.
Da Novembre 2016 è Professore Associato di Lingua e letteratura greca presso il Dipartimento di Filologia, Letteratura, Linguistica dell'Università di Pisa
A partire dall'a.a. 2005/6 gli sono stati affidati gli insegnamenti di "Laboratorio di lingua greca" (CdL in Lettere antiche) e di "Civiltà greca" (CdL in Scienze dei Beni Culturali). A partire dall'a.a. 2007/8 gli è stato affidato il modulo A del corso di Antropologia del Mondo Antico. Nell'a.a. 2007/2008 ha tenuto un corso per il dottorato di ricerca in Filologia e letterature greca e latina. A partire dall'a.a. 2009/2010 gli è stato affidato il corso di Antropologia del Mondo Antico per il CdL Specialistica in Scienze dell'Antichità. Nominato come Professore di ruolo per l'insegnamento secondario per le classi di concorso a043, a050, a051, a052, in seguito al superamento del concorso a cattedre del 1999, dall'a.a. 2006/2007 al 2008/9 ha insegnato Greco presso la SSIS Toscana per la classe a052 (latino e greco nei licei classici). E' membro dei CdL in Lettere, Scienze dell'Antichità, Filologia e storia dell'Antichità, e del Collegio di dottorato in Scienze dell'Antichità e Archeologia.
E' stato Professeur Invité presso il Centre ANHIMA della EHESS di Parigi (Gennaio-Febbraio 2015)
Ha partecipato, in qualità di relatore, a convegni nelle Università di Pisa, Napoli, Trento, Palermo, Calabria, Heidelberg, presso la Scuola Normale Superiore di Pisa, presso il Collège de France e la Ecole Pratique des Hautes Etudes di Parigi, e ha tenuto conferenze in vari licei italiani.
Si occupa degli intrecci tra diritto, religione e letteratura nella Grecia di età arcaica e classica e della didattica della letteratura greca nei licei.
E' membre associé del Centre ANHIMA della EHESS di Parigi (Centre ANHIMA, EHESS)
e-mail: andrea.taddei@unipi.it
Pagina personale su Academia.edu
Scarica il PDFdelle pubblicazioni