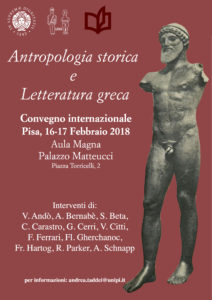 Twenty-five years after the foundation of a dedicated university course in Historical Anthropology of the Ancient World at the University of Pisa, the conference aims to foster discussion about  the study of relationships between Forms of Thought, Forms of Societies and Greek Literature of the Archaic and Classical Periods and to take stock on the most recent trends of research in this field.
Speakers include Valeria Andò, Alberto Bernabè Pajares, Simone Beta, Cléo Carastro, Giovanni Cerri, Vittorio Citti, Franco Ferrari, Florence Gherchanoc, François Hartog, Robert Parker, Alain Schnapp.
Conclusion and final remarks: Riccardo Di Donato.