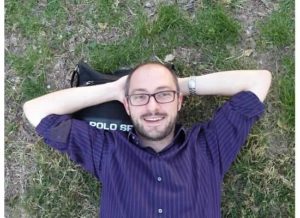 Laureatosi in Antropologia del Mondo Antico nel 2003 sotto la guida del prof. Riccardo Di Donato, ha completato nel medesimo anno il Corso Ordinario della Classe di Lettere presso la Scuola Normale di Pisa. Nel 2008 ha ottenuto il dottorato di ricerca in Filologia Classica presso l'Università di Trento e, in regime di co-tutela, in Histoire et Civilisations presso la École des Hautes Études en Sciences Sociales (EHESS, Paris). La tesi di dottorato, diretta dai professori Francesco Bertolini (Pavia) e Claude Calame (EHESS), è intitolata: Aiace 1-865. Un commento antropologico.
Ha lavorato presso alcuni dei più importanti progetti di Digital Humanities relativi al mondo antico. In particolare, è stato Visiting Researcher presso il Perseus Project (Tufts University) negli anni 2009 e 2011, dove ha lavorato all'Ancient Greek and Latin Dependency Treebank, pubblicando un'annotazione morfosintattica completa delle tragedie di Eschilo e di quattro tragedie sofoclee.
Ha successivamente collaborato con l'Index Thomisticus Treebank (Università Cattolica del Sacro Cuore) e con il database archeologico Arachne (Università di Colonia). Dal 2013 al 2018 è stato assistente di ricerca (Wissenschaftlicher Mitarbeiter) presso il Deutsches Archäologisches Institut (DAI) di Berlino, dove ha lavorato ad alcuni progetti europei e nazionali (EAGLE, Ariadne, iDAI.vocab e iDAI.publications).
Nell'anno accademico 2012-13 è stato selezionato come Joint Fellow del Center For Hellenic Studies (Washington, DC) e Deutsches Archäologisches Institut (Berlin).
Attualmente è Ricercatore presso l'Università Cattolica del Sacro Cuore, dove lavora al progetto ERC "LiLa: Linking Latin", diretto dal professor Marco Passarotti.
È stato membro del comitato scientifico di numerosi eventi internazionali, tra cui in particolare la serie di seminari "Digital Classicist, Berlin", e, con Caroline Sporleder e Marco Passarotti, è uno dei fondatori e organizzatori della serie di workshop "Corpus-Based Research in the Humanities" (precedentemente "Annotated Corpora for Research in the Humanities").